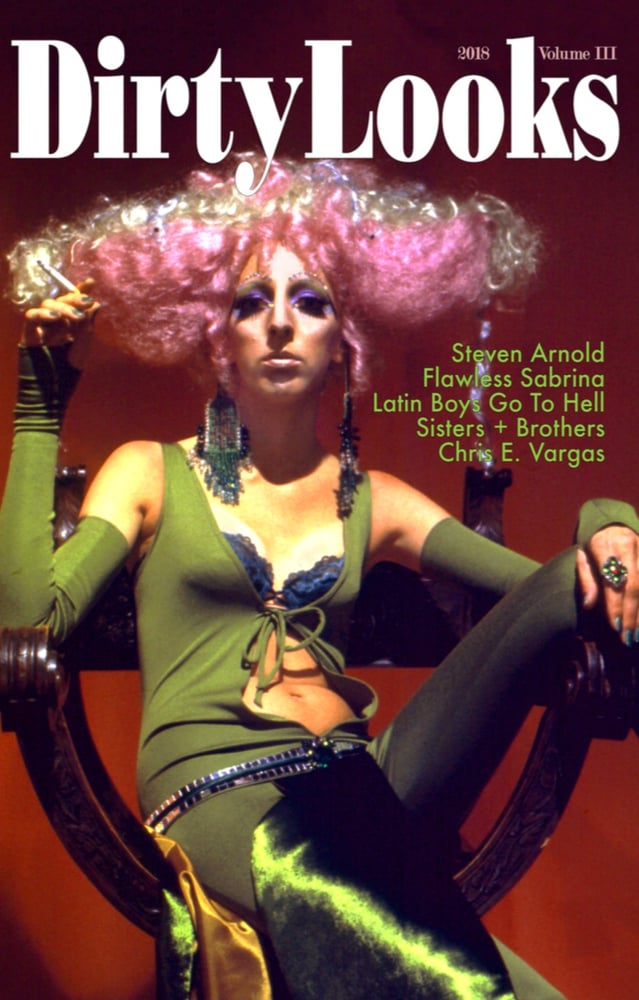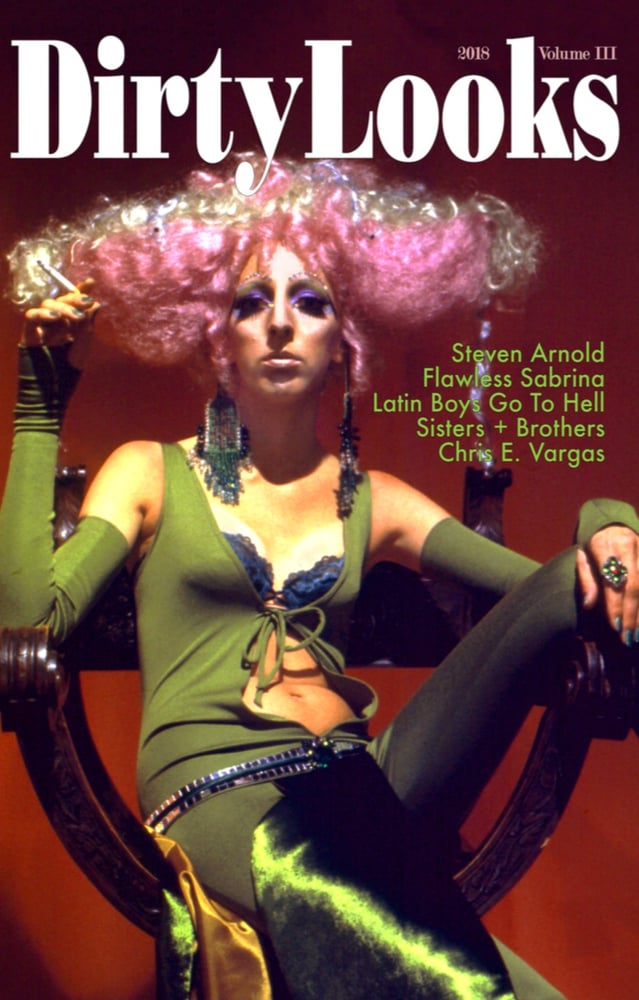 Dirty Looks Volume 3
$12.95
Contributors include: Jürgen Brüning, Nao Bustamante, Curtis Carman, Jackie Clay, Jack Doroshow, Zackary Drucker, Michelle Handelman, Joe E. Jeffreys, Kevin Killian, Bradford Nordeen, Michael Robinson, Daniel J. Sander, Steve Seid, Linda Simpson, Kendall Thomas, Diana Tourjée, Ela Troyano, Ayanna U'Dongo, Chris E. Vargas, Greg Youmans, with Cockette memories from Scrumbly Koldewyn, Adrian Milton, and Rumi Missabu.
Dirty Looks returns with our third Volume, launched on the occasion of our Los Angeles restoration premiere of Steven Arnold's Luminous Procuress, starring radiant covergirl, Pandora. Volume 3 digs deep into discourses around the intersections between drag and trans cultures. Beginning with a 1973 essay on drag penned by Flawless Sabrina for Michael's Thing and ending on a lengthy discussion of RuPaul's Drag Race between Museum of Transgender Hirstory and Art founder Chris E. Vargas and experimental filmmaker, Michael Robinson, Volume 3 is our largest installment to date, brimming with archival photographs, sketches, contact sheets and reviews, original interviews, essays and personal reflections.
Responding to recent and forthcoming programs, Volume 3 highlights queer cinema's indie film moment, in a chapter dedicated to Ela Troyano's Latin Boys Go To Hell; 1970s psychedelia and genderqueer fantasias, as seen through the lens of Steven Arnold; New York's Clit Club and sex-positive activist video art produced by women of color in the late 1990s, in a chapter edited by Jackie Clay for her exhibition Sisters and Brothers (ICA, Los Angeles, 2018); guest editor Zackary Drucker honors The Queen in a 60-page chapter eulogizing Jack Doroshow aka Flawless Sabrina, tracing the drag organizer, activist, consultant and visionary through 6 decades of frontline work and play; expanding upon the media and museum work of Chris E. Vargas yields revisionary histories in the most obtuse and surprising of queer role models.
Cover design by Scott Ewalt from the photograph by Ingeborg Gerdes. Layout design by Tiffany Malakooti and Vanessa Haroutunian. 150 pages